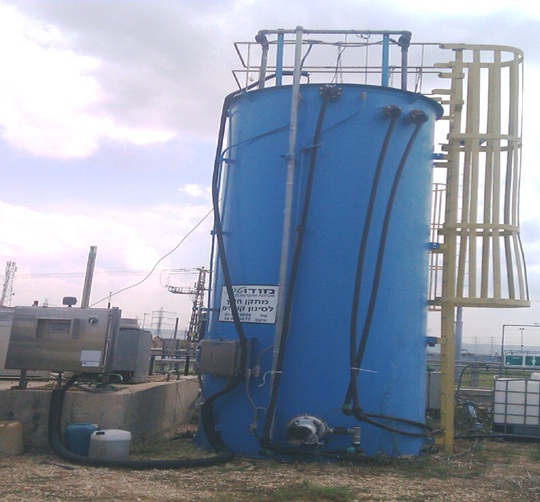 Effluent filtration
Effluent filtration pilot installation
A pioneering installation was operated in 2011 at the treatment plant designed to filter effluents using a gravitational sand filter method (see photograph). The gravitational filters are large tanks that contain layers of filtration beds that may contain grains of quartz, basalt, anthracite or similar materials. The effluents are made to flow from above downward by gravitation during which the bed filters suspended solids. The filtered effluents are then captured in a collection system at the bottom of the filter and discharged into a collection tank. The conclusion drawn by the Association after running the pilot installation for about six months was that this technology is suitable for the Haifa Wastewater Treatment Plant and that the filtered effluent meets requirements specified in the new regulations for effluent quality. The Association is now expediting the construction of a filtration installation to treat all of the effluents produced at the plant. 
Pilot installation for the treatment of wastewater in an MBR type biological reactor
The treatment plant operated a pilot installation in 2013 for handling wastewater in a membrane-based biological process. The aim of this pilot was to examine the suitability of this technology for handling wastewater received at the Haifa Wastewater Treatment Plant and to test whether the effluents produced at the installation meet all quality requirements specified in the new effluent quality regulations. In the membrane biological reactor (MBR), solids are separated from effluents through membranes rather than by secondary sedimentation.
This method has several advantages:
While secondary sedimentation limits the concentration of solids in the aeration tank, the membrane filtration allows higher concentrations of solids by a factor of 2-3, thereby reducing the volume of the aeration tank. The MBR effluents have superior quality and do not need further filtration. Passage of the effluents through the membrane significantly lowers the quantity of microbes in the effluents and reduces the required disinfection dosing. Based on results of the pilot installation, it will be decided later whether this technology is compatible with the Association's needs.